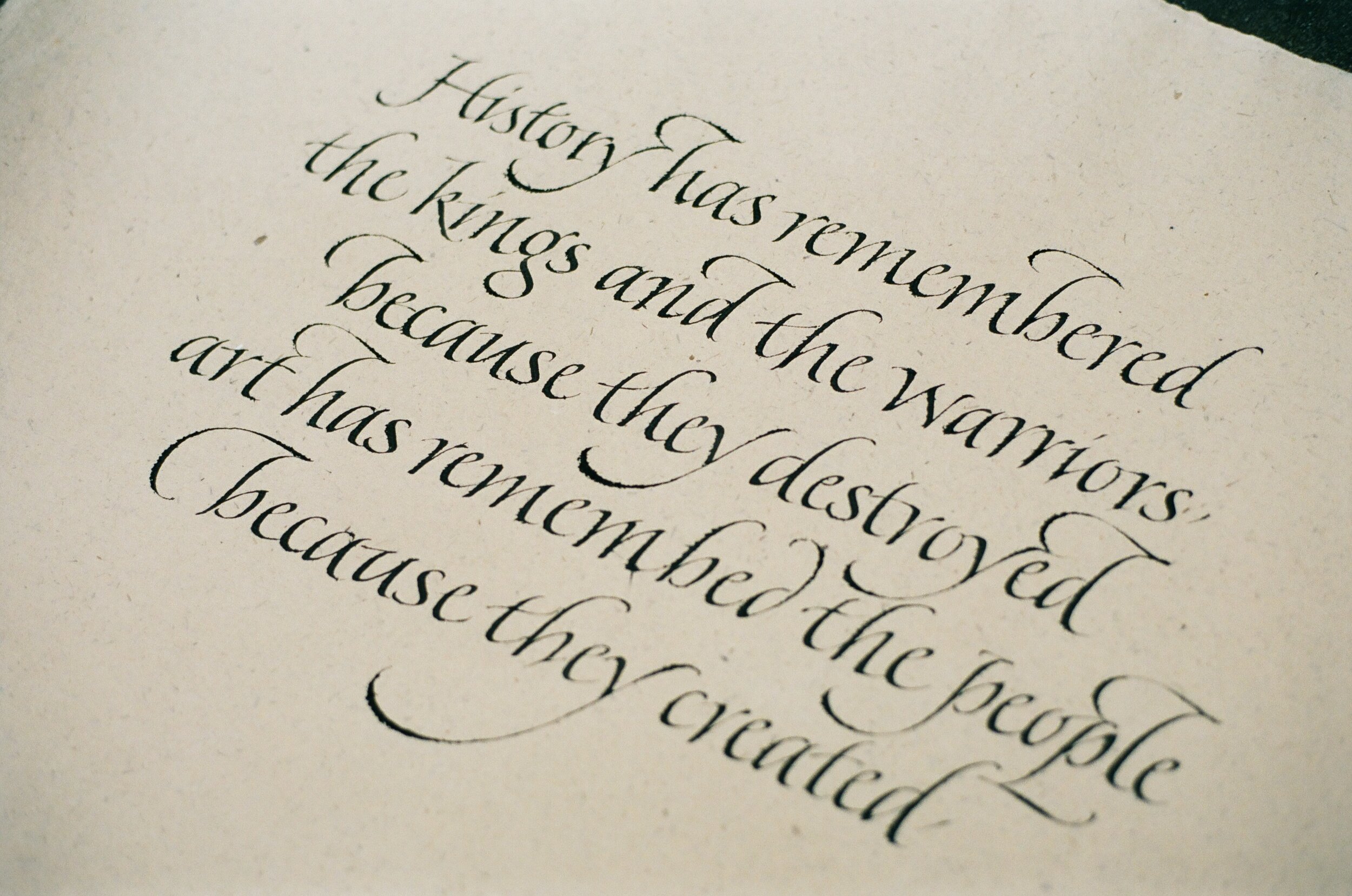 Italic Correspondence Course
Welcome to Italic Correspondence Course!
Through this course I want to bring back the interactive study between teacher and students, but now with more demonstration videos thanks to modern technologies!
What will we learn in next 6 weeks?
- Formal Italic: we will learn to write Italic with traditional principles like 45 degree pen angle, 5 degree slant, how to prepare paper and ink, etc. We also discuss the pros and cons of traditional Italic and refine some details to fit the modern taste.
- Pen manipulation techniques: twisting and pressure. The flexibility of metal nibs gives us so many opportunity to explore letterforms and bring life to them.
- Working with small nibs to write delicate light Italic. Beyond the rules of traditional Italic, we will break though the techniques with small nibs to see what it can be done differently. I personally love light Italic - an elegant hand that requires more care and thoughtful skills.
- Flourish forms: in this section we will explore the possibilities of making flourishing strokes using one nib, two nibs and more; or even drawing and raking techniques to resemble natural texture of paper and ink splat.
- Hybrid Italic & pointed pen: we will learn to see the differences of both styles and bring them together by using multiple nibs
- Refine modern Cancellaresca with modern touch: now with all new look, think about what we can do to improve the Renaissance script
Materials
- Straight pen holder(s)
- Some broad edge nibs (Speedball C2, C3 & C4; Mitchell 03-05 or Brause 3mm, 2mm and 1.5mm)
- Walnut ink or black ink stick (plus inkstone to grind) or some gouaches
- Good practice paper (highly recommend Arches Text Woves, or German Ingres or Canson Ingres)
- Pencil, ruler, eraser
- Watercolor (optional)
Time
The course is 6 weeks long, from November 16 to December 23, 2019. I will upload videos on every Sunday and check students work & give feedbacks on every Thursday and Sunday. Students can also ask me any questions, any time via the forum and comments.
Study Platform
There will be a login page on my website when you finish check-out and registration that you can access all videos weekly, downloadable notes and upload your scanned practice sheets for feedbacks. I will also make a Dropbox folder for each students to store your practice so that you can keep track your progress and look back any time after the course. Discussion between students is encoraged!
Fee
Total fee is 325 USD, included transaction fee.